3D flower screensaver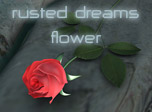 A beautiful red rose lying on the stones at the shore of some dreamy lake. Who brought it here? Maybe it waits for someone?
Throughout the ages, the red rose has been the ultimate expression of passion and love. Also, it can stand for respect and courage.
This flower can become a romantic gift to your sweetheart, or it can be just a pretty screensaver with nice 3D graphics and relaxing background music.
screenshots
information
Version: 1.2
File size: 6.1 Mb
Price: $14.95
Registration will remove startup message and "UNREGISTERED VERSION" text in the screensaver itself. As a registered user you will receive new versions of flower screensaver and technical support via e-mail without any charges.
system requirements
P-III 800 Mhz or equivalent processor
64 MB RAM
ATI Radeon 9500 (and higher) or NVIDIA GeForce 3 (and higher)
7 MB free hard drive space
Windows 2000 or Windows XP operating system
Sound card, if you want to play background music
Make sure to use latest video card drivers.